Al Qahwa pre-recorded a 45 minute set of music for TD Sunfest as part of Global Music Month, doing some classic songs from Egypt, and some original compositions from their new CD "African Routes" which will be released on all digital platforms on November 6, 2020 through CD Baby.  For actual CDs, e-mail the group at: alqahwaensemble.gmail.com to order your copy.
Thank you to Sunfest for inviting us to be a part of this series.  To donate to Sunfest, you can go to: https://sunfest.on.ca/
Al Qahwa performance at MabelleARTS open air market
Al Qahwa will be one of the nominated groups showcasing at the Canadian Folk Music Awards on Saturday, April 4th from 3 to 4:30 p.m.  We will be performing at The Pourhouse at The Old Triangle Charlottetown, for the popular #TradMusic Showcase featuring nominees from across Canada, including: Còig, Pierre Schryer & Adam Dobres, Al Qahwa, #SabinJaques & #RachelAucoin, #CONWAY, and Graham Lindsey. Tickets are $20. Minors must be accompanied by an adult. Demetrios Petsalakis, Ernie Tollar, Maryem Hassan Tollar and Lauren Barnett (who will be subbing in for Naghmeh Farahmand) hope to see you at there!
Cancelled due to Covid 19
Al Qahwa with guests Waleed Abdulhamid and Fethi Nadjem will explore North African influenced original music, and some traditional North African tunes at the Beautiful Small World Music Centre before we head into the studio to record our next CD. Come and check it out!
Multi-instrumentalist, composer, vocalist, producer and film maker, Waleed Abdulhamid was born in Sudan. He began performing at the age of 6. In Sudan, Waleed was known for bringing traditional rhythms into popular music. When he left Sudan at age 18, he performed, recorded and toured extensively, appearing at major music festivals in Stockholm, Copenhagen, Frankfurt and Oslo as well as in Finland and Iceland. He demonstrates his versatility on guitar, bass, drums, harmonica, kirin, darabhuka, marimba, congas, djembe, dumbek and tama and has been invited to perform in festivals and conduct workshops (merging music and movement) in Spain, France, the UK and Portugal. Waleed is one of the 12 resident artists at Soulpepper Theatre . He has also played and recorded with David Clayton Thomas, the Motown Legend Band "The Drifters", Doug Riley, Jackie Richardson, Julie Black, Deborah Cox and Zaki Ibrahim. Waleed is the film director of the awards winning documentary "Let's Find A Way" and has been music director of a series of shows at the Caliban Arts Theatre (Freedom Live), Inner Stage as well as with various dance companies. He has also composed and produced music for several TV shows as well some main stream movies and is the winner of a "Canada New Pioneer Award" in 2011.Waleed is a Music teacher at Humber College.
Fethi Nadjem was born in 1983 in Algeria where he grew up in a family of musicians. He began playing the guitar and oud at the age of 13, and developed his skills within the Fine Arts Association in Algiers, learning Andalusian music, playing violin and Algerian mandole. At the age of 21, he was one of the founders of a world music fusion band named Djmawi Africa, with which he performed on major world stages for 13 years. During this time, Fethi also learned to play kora (African harp). Shortly after arriving in Toronto, he started playing with several bands and musicians including Jesse Cook, Moskitto Bar, Moneka Arabic Jazz, and leading his own group, as a multi-instrumentalist.
Al Qahwa performing at SPEAK Music Be Kind Festival, a non-profit Canadian music festival, with net profits distributed to a different charity each year, to be held annually in Toronto, showcasing a diverse blend of Canadian music creators in performances and workshops. We endeavour to invite more kindness into our own lives and into the world. This year SPEAK: Be Kind is  partnering with the Unison Benevolent Fund which helps music industry folks in need of financial and other areas of assistance. Community Meal, an environmentally conscious, donated food distribution service is also partnering with the group.
Al Qahwa will be opening for Emel Mathlouthi at her CD Release Concert in The Auditorium along with Hassan El-Hadi's Ensemble.
For tickets go to: https://ticketing.agakhanmuseum.org/single/SYOS.aspx?p=14769
Free evening performance at Toronto Pearson International Airport in Terminal 1
FREE noon hour performance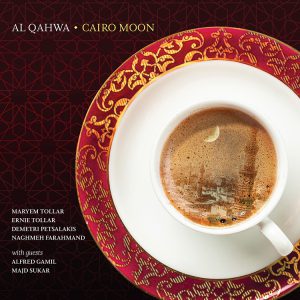 Al Qahwa with guests: Alfred Gamil from Egypt; Waleed Abdul Hamid (Sudan) and Fethi Nadjem (Algeria)
$15
Members of Al Qahwa with guest Alfred Gamil.
FREE
Wednesday, August 7 – 5 to 5:30 p.m.  /  6 to 6:30 p.m.  /  7 to 7:30 p.m.
Saturday, August 10 – Noon to 12:30 p.m.  /  1 to 1:30 p.m.  /  3 to 3:30 p.m.
Sunday, August 11 – Noon to 12:30 p.m.  /  1 to 1:30 p.m.  /  3 to 3:30 p.m.