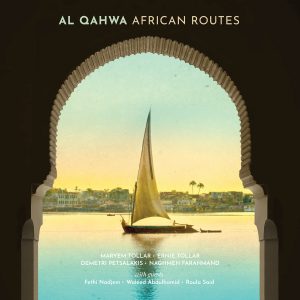 ABOUT AL QAHWA
The group name Al Qahwa is Arabic for "the coffee house". It was inspired by the coffee house culture in the Middle East where people would go to hear the latest news, music, poetry and stories. The repertoire began with traditional songs from Syria, Egypt and Iraq and then in 2018, the group started adding original repertoire by members of the band. Their second recording "Cairo Moon" is a cultural collaboration between the regular members of Al Qahwa and two guest artists: Dr. Alfred Gamil – one of Cairo's treasured violinists/composers who is both steeped in tradition and known for his virtuosic, flirtatious creative presence; and Majd Sukar – a deeply rooted Syrian musician who has adapted the clarinet to Arabic music.
The group's third recording "African Routes" includes guests: Roula Said – a long time collaborator with Maryem, originally from Palestine; Waleed Abdulhamid – originally from Sudan; and Fethi Nadjem – originally from Algeria. This CD is inspired by the music of North Africa. Fethi and Waleed were invited to contribute songs, or to help arrange both traditional and original compositions that Maryem brought to them. This Live CD is a result of that collaboration.
"African Routes" was released in November, 2020.
Al Qahwa is working a new recording "The Sky Is Falling" adding Waleed Abdulhamid and Roula Said to the core group with support from The Toronto Arts Council and The Ontario Arts Council. It will be released in the Spring 2023 followed by a Canadian tour with the 6 piece ensemble.
To buy Al Qahwa CDs or tracks digitally, go to:
alqahwa.bandcamp.com
To order and buy physical CDs directly from the band, send email to AlQahwaEnsemble@gmail.com
To support Al Qahwa, please donate to their tip jar at this link:
https://www.paypal.com/biz/fund?id=L5HED3CL9JHHL
Or click the yellow donate button below:
---
UPCOMING GIGS
Al Qahwa is currently booking festivals and venues in Western Canada and around Ontario. Check in after the new year to see where you can catch the 6 piece band who will be touring and promoting their 4th album release – "The Sky Is Falling" which is being recorded with support from The Toronto Arts Council and The Ontario Arts Council.
Al Qahwa is in talks with festivals and venues and will reveal the full tour as things get confirmed.
AL QAHWA SUMMER 2023 TOUR (Check back in the new year to see upates)
July 11 and 12, 2023 – Harrison Festival of the Arts, Harrison Hot Springs, BC
July 14 to 16, 2023 – Vancouver Island Musicfest, Courtenay, BC