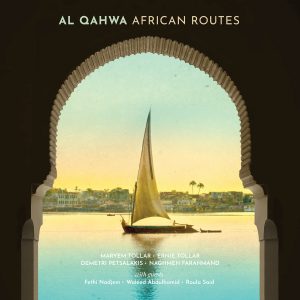 ABOUT AL QAHWA
The group name Al Qahwa is Arabic for "the coffee house". It was inspired by the coffee house culture in the Middle East where people would go to hear the latest news, music, poetry and stories. The repertoire began with traditional songs from Syria, Egypt and Iraq and then in 2018, the group started adding original repertoire by members of the band. Their second recording "Cairo Moon" is a cultural collaboration between the regular members of Al Qahwa and two guest artists: Dr. Alfred Gamil – one of Cairo's treasured violinists/composers who is both steeped in tradition and known for his virtuosic, flirtatious creative presence; and Majd Sukar – a deeply rooted Syrian musician who has adapted the clarinet to Arabic music.
The group is excited about their latest recording "African Routes" with guests: Roula Said – a long time collaborator with Maryem, originally from Palestine; Waleed Abdulhamid – originally from Sudan; and Fethi Nadjem – originally from Algeria. This CD is inspired by the music of North Africa. Fethi and Waleed were invited to contribute songs, or to help arrange both traditional and original compositions that Maryem brought to them. This Live CD is a result of that collaboration.
"African Routes" will be released on November 6, 2020.
To pre-order and buy directly from the band, send email to AlQahwaEnsemble@gmail.com
---
UPCOMING GIGS
Al Qahwa is excited to celebrate the release our 3rd recording "African Routes" with guests Fethi Nadjem, Waleed Abdulhamid and Roula Said.  They will be joined by the women of Turkwaz (Maryem Tollar, Jayne Brown, Sophia Grigoriadis, Brenna MacCrimmon) who will do an opening set of music and then joining Al Qahwa and their guests for a few songs.  Roula Said will be adding for a great celebratory evening of music and joy.